OUR BABYWEARING VIDEOS TUTOS
On the Youtube channel of Ling Ling d'amour or directly by browsing our videos tutorials, discover our different ways of wearing your baby. Thus, you can choose the best one that suits you according to the age of your child and your needs, but also review the different knots and finishes possible with your favorite carry method, be it the baby wrap, the sling, mei-tai or full-buckle baby carrier!
Sling is a short and knotless wrap. Rings are used to slide the fabric and maintain the settings. Although it is easier to handle than the traditional baby wrap, a babywearing class may be necessary to properly install and be comfortable. How to wear in front or on the hip, and how to use the ring guard included in the Ling Ling sling will have no secrets for you.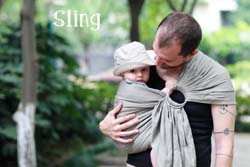 How to carry your baby in your ringsling
Ling Ling d'amour designs full-buckle baby carriers from birth up to 5-6 years old. With the P4 baby size, P4 standard and P4 preschool, carrying a baby without learning to tie a wrap is quite natural. The tutorial videos will mainly explain how to make the settings of these evolutive baby carriers that adapt to the size and morphology of each child. In these full buckle carriers, carrying baby on your front or back will be as easy as putting on a backpack. The straps and the abdominal belt are padded for the comfort of the wearers. Finally, discover the practical tips of Ling Ling d'amour, such as the adjustable hood, useful to protect baby from the wind, but also to stall the heads of sleeping babies.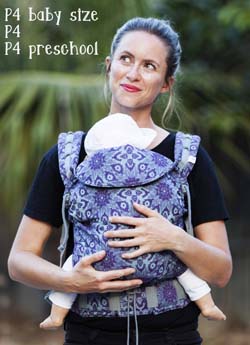 No fuss with the P4 full buckle carrier !

Le mei-tai est un porte-bébé à mi-chemin entre le préformé et l'écharpe de portage. Avec le Mid-Taï, le meï-taï version Ling Ling d'amour, 3 positions de portage bébé sont possibles : devant, dos et côté en portage d'appoint. Le portage se fait toujours en position ergonomique. Le Mid-Taï possède la soutenance et le confort de l'écharpe, avec la facilité d'usage du préformé. Dans les tutos, retrouvez toutes les explications sur l'installation en portage ventral et en portage dorsal, mais aussi découvrez comment placer votre enfant en portage côté, sur la hanche, dans un mei-tai.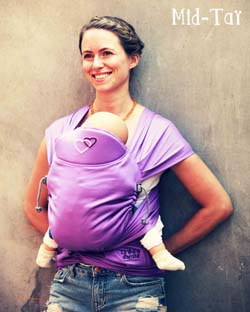 Le confort de l'écharpe et la simplicité d'utilisation d'un porte-bébé !
Vous aimez le mei-tai et souhaitez porter votre bambin de cette façon ? LLA a pensé à vous et a conçu le Maxi-Taï, un mei tai preschool. Le portage est physiologique et les réglages sont les mêmes que pour un meh-dai classique. Dans nos tutos, vous apprendrez les différents réglages possibles en portage dos dans ce porte-bébé aussi confortable qu'une écharpe de portage. Vous personnaliserez les réglages du Maxi-Taï en un tour de main, et continuerez le portage physiologique de 2 ans jusqu'à 5-6 ans (27 kg).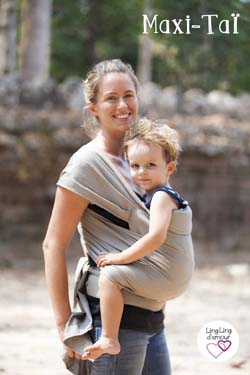 Le Maxi-Taï pour le portage des grands bambins
Le M-Taï est un porte-bébé hybride entre le mei-tai et le porte-bébé préformé. Les pans servant de bretelles sont mixtes c'est à dire rembourrés et déployable sur les épaules pour un grand confort. La ceinture abdominale, elle, se clipse comme un préformé classique pour une installation rapide. Grâce à des réglages de l'assise, le M-Taï est évolutif et vous permettra de porter votre enfant de 4 mois à 3 ans, soit de 6 à 18 kg. Dans les vidéos tutos vous découvrirez comment porter dans 3 positions de portage, ventre, côté et dos, mais aussi comment faire différentes finitions de portage grâce aux pans déployables des bretelles. En effet, le porte-bébé M-Taï permet des réglages différents très agréables, notamment en cas de grossesse, pour ne pas comprimer le ventre ou les seins.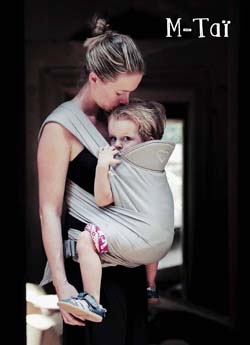 L'hybride pour un mélange entre meitai et préformé
Baby wrap
Dans les vidéos tutos, apprenez à nouer l'écharpe de portage tissée de LLA. Vous saurez tout sur les bonnes positions à adopter en écharpe de portage, et les nouages possibles. Dans votre écharpe, vous pourrez porter en portage ventral, en portage sur la hanche et en portage dos. Dans nos vidéos, nous vous expliquons avec le plus de détails quels sont les nouages possibles, et quelle est la position physiologique à adopter pour un nouveau-né ou un bambin. Il est important d'apprendre à bien installer votre enfant en écharpe de portage. En effet, transporter bébé dos arrondi, avec les genoux fléchis et plus hauts que les hanches, offre une posture ergonomique pour une bonne croissance du tout-petit.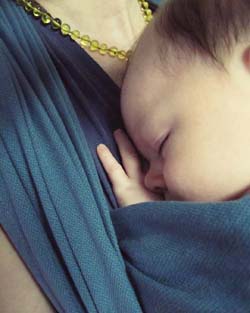 Pour tous nos autres porte-bébés, nous vous invitons à aller pour le moment directement sur notre chaine YouTube !
Vous pouvez également faire appel à une monitrice de portage agréée afin de tester différents modes de portage et de vous sentir plus à l'aise dans l'utilisation de votre écharpe de portage, votre sling, et même votre préformé. Cliquez sur l'find a consultant afin de trouver un cours près de chez vous.
Did you lost your hangtag ? Follow the link.