BABYWEARING Q&A
Introduction : What is babywearing and why carring your baby ?



Weaving techniques
Les matières utilisées
Differences between Mid-Tai and Mid-Tai +
Differences between baby wrap and ring sling
Differences between half-buckle M-Tai and full-buckl P4
How to carry baby in ringsling
How to carry baby in meitai Mid-Tai
How to carry in full-buckle P4
How to carry in half-buckl M-Tai
How to choose your baby wrap
Why my fabric is not soft since the begining ?
Mon bébé a des marques sous les cuisses / les pieds bleus
Puis-je porter enceinte ?
17. Our best advices to a soon-to-be mom !
18. Best baby carriers for dads !
19. How to lift-out a sleeping baby ?
===============================================================================
WHAT IS BABYWEARING AND WHY WEAR YOUR BABY ?
A découvrir dans "Les carnets du portage de LLA : épisode #1 : Le portage physiologique et pourquoi porter son bébé ".
BABYWEARING RULES
Vous trouverez ci-après nos recommandations pour porter votre enfant en toute sécurité.
Votre bébé doit être confortablement installé dans le porte-bébé :
-en position verticale
- son menton doit être décollé de son thorax
-positionné haut (à "hauteur de bisous")
-son bassin basculé et le dos arrondi
-ses jambes en position accroupie et les genoux relevés au-dessus du niveau des fesses
-ses mains à portés de sa bouche
-ses voies respiratoires doivent être dégagées
You can see here the position of the baby in the full-buckle carrier P4 baby size :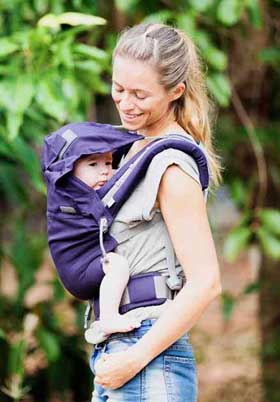 Nous attirons votre attention sur le fait que les enfants sont beaucoup plus sensibles aux écarts de températures que les adultes surtout en cas d'immobilité.
C'est la raison pour laquelle l'enfant doit être habillé en conséquence :
-en cas de portage en intérieur ou en extérieur
-en cas de portage par temps chaud ou par temps froid
Il est important de que ses extrémités soient protégés (tête, mains, pieds) en fonction des conditions météorologiques.
N'hésitez pas à hydrater régulièrement bébé.
Par ailleurs, nous vous recommandons de vérifier régulièrement durant le portage :
- le nouage (écharpe, Mid-Taï, Mid-Taï +, Maxi-Taï, M-Taï) ou le serrage (sling, P4 baby size, P4, P4 preschool)
- la disposition des bretelles et de la ceinture
- de vous assurer que votre bébé est bien installé dans le porte-bébé
Si la tension se relâche, ne pas hésiter à resserrer le nœud (écharpe, Mid-Taï, Mid-Taï +, Maxi-Taï, M-Taï) ou refaire le serrage (sling, P4 baby size, P4, P4 preschool).
Il est important de vérifier les boucles, sangles, cordons, systèmes de réglages, bretelles et autres parties de votre porte-bébé avant chaque utilisation.
L'équilibre du porteur peut être affecté par tout mouvement que lui et l'enfant peuvent faire. C'est pourquoi, ne vous penchez en avant qu'avec précaution.
Le porte-bébé n'est pas adapté aux activités sportives.
Le porte-bébé ne remplace pas un siège homologué pour le vélo ou pour la voiture.
Wearing VS. Knitting
Any questions ?
Send us a message :
service-client@linglingsling.com
we usually reply quickly