Preschooler baby wearing
Wondering how old to wear your child? Or are you looking for a solution to carry your toddler on a trip or on a hike? Your baby has grown, and his weight more consequent requires a means of carrying adapted to his age. We explain everything about the physiological carriage of the largest, from 2 to 6 years, and about the different solutions that we have designed at Ling Ling d'Amour, to accompany you in your daily life.
Why wear a child over 3 years old?
Your child does not want to walk anymore
Your child has been walking for a while now, so why continue wearing it? Certainly, he knows how to walk, but his little legs tire very quickly and he quickly claims your arms. The carrying of a large baby over 2 years of age will quickly tire your arms, back or neck if you wear it on your shoulders. That's why Ling Ling d'Amour has created baby carriers specifically designed for carrying toddlers and preschoolers.
The benefits of carrying also for the older ones
By continuing to carry your child, even after 2 years, you prolong the benefits of babywearing. A 3-year-old sometimes also needs to reassure himself against his parents, or to isolate himself in the face of too much external stimulation. Whether in front carry or in the back, your toddler will have the opportunity to put himself in his bubble, reassured by the contact with his dad or his mother. His interactions with you are also more important in portage, and the child is more involved in the life of his parents. It is integrated with adult life and is not passive as in a stroller.
Very convenient for traveling or hiking
Are you planning to go on vacation with your toddler, and do not want to get in a stroller? The toddler baby carrier is less bulky. No need to put it in the hold to get on the plane, or to struggle on public transport! You fold your favorite baby carrier and store it in your bag when your child does not need it. The Ling Ling d'Amour child carriers are also very suitable for hiking. You can continue to walk with your children, and introduce them to the joys of hiking without getting tired of too much. Our child carriers also have a headrest so your child can rest or take a nap.
How to wear a big child?
You carried your newborn baby and then your baby in a physiological baby carrier, so why not go on too for your toddler? Your child has grown up and his posture has evolved, but the physiological carry is also beneficial for him. It is important that his posture is comfortable, especially during long walks, hikes, or when he falls asleep in the child carrier. Ling Ling d'Amour manufactures physiological toddlers to bring your child in the best conditions. The seat of the baby carriers for more than 15 kg remains deep, the legs bent with the knees higher than the hips.
Which baby carrier to choose for a toddler?
Ling Ling d'Amour offers 2 preschool baby carriers, so you can choose your preferred baby carrier. These 2 ways of carrying for the big ones are physiological and at the best price ! The fabric remains the same as that of the Ling Ling d'amour baby wrap, made in a quality organic cotton fabric and awarded the GOTS label.
Wear in full-buckle, the P4 preschool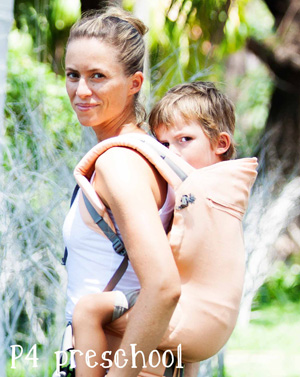 Back carry for preschooler in full-buckle P4 preschool Ling Ling d'amour
The Ling Ling d'Amour full buckle is also available for the older ones with the P4 preschool. Like a backpack, it can be quickly put on and adjusted with one hand:     
- for children from 90 cm (about 2 years);     
- up to a weight of 27 kg;     
- padding under the thighs of the toddler, in the shoulder straps and the lap belt;     
- belt and shoulder straps;     
- removable headrest and hood included;     
- seat adjustments in height and width.
Wear mei-tai, the Maxi-Tai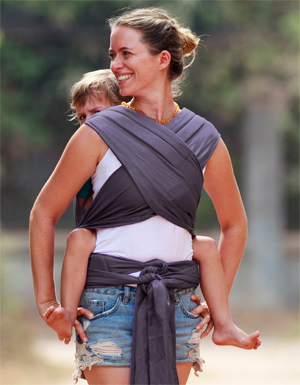 Back carry for preschooler in mei-tai Maxi-Tai Ling Ling d'amour
This child carrier is an alternative to preformed. The Maxi-Taï offers sensations equivalent to that of the baby wrap:     
- mixed suspenders: deployable and padded on the shoulders, they also reinforce the seat under the buttocks of baby;     
- belt that is tied to fit the size of the wearer;     
- from the 90 cm of your child;
- up to a weight of 27 kg;
- padding under the thighs of the child;     
- removable headrest
Until what age are your going to carry your child?
The more your child grows, the longer they can walk. He then claims less and less to be worn. Our preschool, P4 or mei-tai baby carriers can still carry up to 27 kg. They are strong and comfortable to meet the requirements of carrying large children. Leaving school, your child is tired and does not want to walk anymore? Your child carrier continues to accompany you on a daily basis.   There are solutions to prolong the physiological carrying with your toddler. The babywearing has many assets for your child, and avoids cluttering on a trip and everyday. Ling Ling d'Amour accompanies you until the 5-6 years of your child thanks to its quality toddlers, made in an organic baby wrap, and devoid of toxic substances. The Maxi-Tai as the pre-formed P4 preschool are space-saving and practical solutions for family trips and hikes. If you are going to a warm country, check out our Wear in Hot Weather page.