BABYWEARING DURING SUMMER OR HOT WEATHER
We prepare for the coming summer and rising temperatures ... Discover all our tips to continue to carry baby during the summer and continue to enjoy the benefits of babywearing with confidence.
Can I continue babywearing my baby ?
Which carriers are the best for summer ?
Can I wear my baby at the pool or sea side?
How to dress my baby in hot weather ?
My baby sweats a lot when I wear it when it's hot, is this normal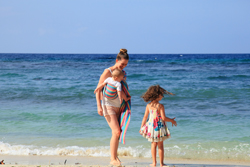 How to carry in summer or hot weather ?
Do not hesitate to put a hat on his head, sunglasses and use an umbrella to put it in the shade. If you can, stay as cool as possible by avoiding going out during the hottest times of the day.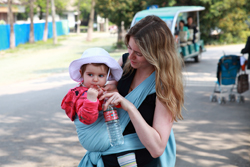 Remember to moisturize and refresh baby.
In principle, as long as a baby is breastfed, he does not need to drink water: as soon as he seems thirsty, just give him the breast. For non-breastfed babies and older children, do not hesitate to give them a drink regularly

Privilege cotton clothes (and cotton baby carriers) for you and your little one. Thecotton absorbs moisture and can refresh once it is wet.
We recommend that you do not over-dress baby. We must indeed take into account the fabric of the baby carrier as a layer of clothing on his back. Body or naked in the baby carrier, it's up to you to see according to the temperatures of the moment.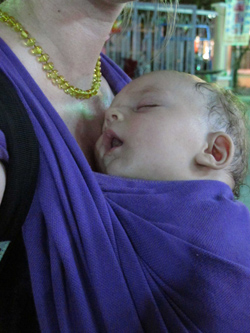 Be aware, however, that you and baby will sweat, as babywearing brings hot.
At Ling Ling d'amour we have chosen to favor organic cotton fabric (GOTS label) for all our baby carriers. Our fabrics - by their weaving and their density - are well adapted for babies' carrying in summer and hot weather : they are neither too thick nor too thin.  
Baby carriers to choose on when it's hot
What privileged baby carrier in summer? It's up to you to see according to your preferences and your personal needs: P4 (baby size, standard, preschool), sling, Mid-Tai, M-Tai, Maxi-Tai ...  
Discover our ranking below: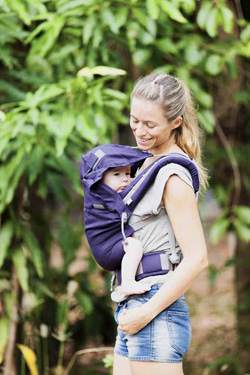 The full-buckle carrier P4 is a very fast baby carrier to install: you will not sweat during the installation ;-)
No fabric to handle and just an apron on the back of baby where the air can pass to refresh you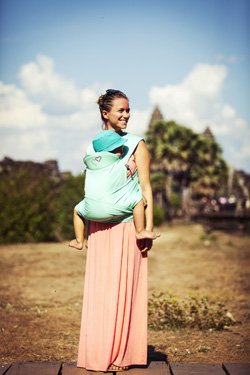 Baby carriers mei-tai or half-buckle carrier type are rather fast to install baby, so you will not sweat too much during installation ;-)
An apron on the back of baby and shoulder straps that cross in your back (in front carry).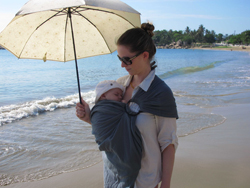 Ringsling is a quick way to carry baby. There is fabric around baby and the wearer.
Tip to protect your little feet: use the extra fabric of the sling (scarf ...) to put it on top and cover your little legs ;-)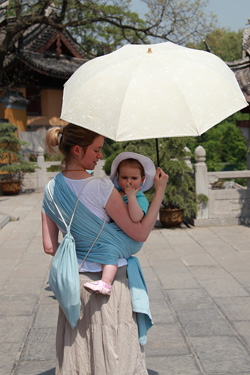 At Ling Ling d'amour, we prefer to recommend the use of a ringsling that allows a more comfortable carry for baby and wearer. Or to favor a so-called "breathable" knotting such as a kangaroo or a "loincloth" style to have the shoulders cleared by using a short wrap .
Can I use my baby carrier at the pool / at the sea?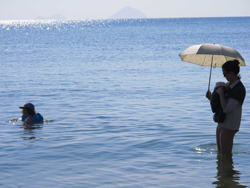 You will find our recommendations for the baby carriers used for bathing below.
Yes, you can wear your little one with your feet in the water as long as the water level stays at or below your knees
We do not recommend putting you in the water with baby in a baby carrier if you have water above your thighs.
If you had to lose your balance (wave, hole in the sand, ...) and fall into the water, baby would be immersed.
For safety reasons for your child, it is forbidden to swim with baby against you.
If the water wets your baby carrier, once you get in, we recommend that you rinse your baby carrier thoroughly with clean water.
How to dress baby in the baby carrier?
We recommend that you prefer cotton clothes. When it's very hot, you can dress baby with a simple bodysuit, or even put your baby in the baby carrier.
My baby sweats a lot when I wear it when it's hot, is this normal?
Yes, you and your baby can sweat and this is a normal reaction to your body. Babywearing bring heat, especially in summer. For this reason, it is necessary to remember to hydrate very regularly baby and not to expose you to the sun during the hottest hours.
Happy babywearing !