Mid-Taï + Shadow Purple sales
Mid-Tai + Shadow Purple

A mei-tai baby carrier: a belt and mixed straps to tie on.
More convenient, more evolutive, the Mid-Tai+ features very ingenious design details to make babywearing easier!
Discover the Mid-Tai+ inspired by our flagship product, the Mid-Tai
More convenient, more evolutive, the Mid-Tai+ features very ingenious design details to make babywearing easier.
It allows you to carry your child from 4 months old (approx. 6kg) up to 18 kg max (approx. 3 years old).
Front carry babywearing in Mid-Tai+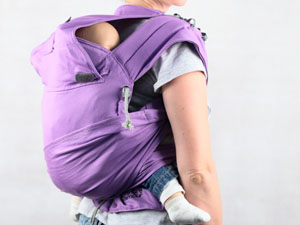 Back carry babywearing in Mid-Tai+
Read more on the Mid-Taï+ page.
Collection

Daïcaling

From birth

No

Age ranges

4 months old (13.2lbs) - 3 years old

Max weight

39,6 lbs

Apron size at the smallest

7.8 x 8.2 inch (headrest not included)

Apron size at the largest

16.53 x 17.32 inch (headrest inluded)

Nursing in this baby carrier

Yes

Hood

Yes

Can be used to carry your baby

devant et sur le dos

Material

fabric made in certified organic cotton (GOTS)

Weaving

Broken Twill Weave

Weight

210 g/m2

Dye

fabric dye

Country of manufacture

Vietnam

Type of baby carrier

meï-tai
Parfait

Je suis très contente
Mid tai plus

Mon premier porte bébé physiologique et vraiment facile d'utilisation.
Les premières fois ont à toujours un doute sur l'installation, mais nous avons une notice d'utilisation avec photo super pratique.
Peux être ajouter quelques petits conseils et astuces pour savoir si bébé est bien installé ????
Moins fan de la couleur par contre mais tissu résistant et de super qualité.
Génial

Très beau, confortable, pratique je ne pourrais plus m'en passer j'adore et ma fille aussi. Simple d'utilisation et très confortable pour bébé et maman. Je le recommande a 100%
Belle couleur

La couleur diffère un peu de celle sur la photo mais pour etre mieux
Je m en sers surtout pour sortir car à la maison j ai un sling
Tres bonne qualité
Porte bebe

Jai choisi ce porte bebe pour la faciliter d utilisation car l echarpe de portage ete compliquer et un porte bebe normal ete difficile a mettre seule.
Je suis nounou et les enfants adorent cela m evite d acheter la poussette 4 places.
Jadore tout simplement je recommande livraison rapide


Mid tai+

Merci pour cette promo, belle découverte du nid tai+
Belle couleur, facile d'utilisation.

Couleur très jolie, facile d'utilisation, bébé de 9 mois s'est sentie bien dedans immédiatement. On peut régler de façon très simple et rapide.
Adopté dès le premier essai !

Merci pour ce super produit, adopté dès la première fois par mon loulou de 5 mois. Facile d'utilisation, réglages agréables, il nous a servi énormément pour les balades notamment un week end en famille avec avion et balades. Le plus pour moi : facile à desserrer pour allaiter !
Très bien

Parfait pour un portage dans le dos.
Bébé a 7 mois et ça lui convient bien.
Bretelles en mousse très confortables
Confortable

Je voulais remplacer une echarpe par un maï taï. Avec l'hiver, installer mon grand bebe (18 mois) dans l'echarpe devenait compliqué.
Après quelques semaines d'usage, je ne regrette pas mon achat. Le mid tai est confortable pour lui et pour moi. Il se met et se defait facilement.
Je regrette juste de ne pas avoir pris un maxi tai car j'ai peur que le mid tai ne dur qu'1 an.
Bon achat

Je l'utilise pour les promenades et les journées shopping. Il est facile d'utilisation. Et ma puce s'endort facilement dedans.
Super

C'est ce modèle qui me convient, pas mal aux hanches et possibilité de bien le fixer autour du ventre. je le trouve un peu juste pour un enfant de 2 ans et demi et j'aurai du prendre le maxi tai mais il fera l'affaire pour cet été et pour mon petit dernier.
Solde

Au départ je n'aurai pas pris chocolaté comme couleur mais c'était le seul en solde et finalement la couleur est très sympas.
La photo avec la poupée donne l impression d un tissu plus épais moins souple mais en faite tissu très souple et très agréable
Mid-Taï chocolate

Il est arrivé à la maison rapidement. Et même si nous ne pouvons pas encore l'utiliser puisque notre petit bonhomme n'a que trois mois, il correspond exactement à ce que j'attendais. J'ai hâte de pouvoir voir mon petit bout dedans.
Merveilleux !

Ce mid-taï a véritablement révolutionné mon portage ! Alice (presque 12 mois) peut y faire des siestes de 1h30 sans problème. En plus c'est que du positif niveau confort et installation. Je recommande donc sans hésiter !!
MID TAI +

Cet article correspond totalement à mes attentes. Je suis très satisfaite.
Customers who bought this product also bought: