Maxi-Tai carrier
Out-of-Stock
Tax included
Maxi-Tai, the preschool mei-tai baby carrier by Ling Ling d'amour
Designed to carry your child from 2 years old to 27kg max.
Your Maxi-Tai, a meh-dai preschooler size
Easy to use, comfortable and maxi-sized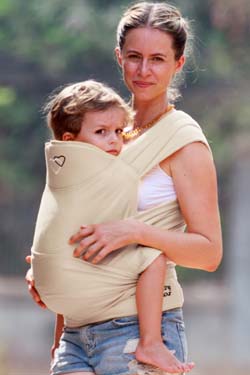 The Maxi-Tai is a physiological baby carrier of the mei-tai variety, preschool-sized. It is designed to carry your child from 2 to 5 years old (max 27kg) on the front or back. Its straps to tie on and its belt make it both very comfortable and aesthetic.
Comfortable
The Maxi-Tai is available in its version with mixed straps. Now the straps are both padded and spreadable. These mixed straps allow for a fast set up on your shoulder, especially for front carries.
With their light, 8 cm wide padding on the shoulders, you will experience a higher comfort and enjoy a great freedom of movements for your shoulders.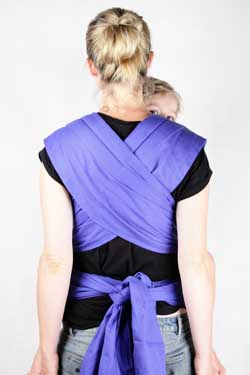 The belt, lightly foamed for 59 cm, allows to distribute the weight on your pelvis.
Fitted for carrying preschoolers
The Maxi-Tai is designed to carry your child from 2 to 5 years old (9 to 27 kg max). Its wide seat makes it a "preschool" carrier (54.5 cm). This requires your child to be at least 90 cm tall, otherwise the seat would be too large.
The spreadable, 24 cm wide straps can be used to reinforce the seat and support your child's weight.
Your Maxi-Tai features a flexible foam headrest, which can be folded down when your child is awake, or raised during naps for instance.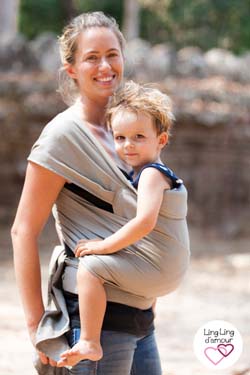 In the Maxi-Tai, your toddler can choose how high they are carried: they can keep their arms inside to feel snug, or let them out so that the panel reaches up to their armpits.
An uncluttered quality design
The fabric of the Maxi-Tai is made with certified origin organic cotton (GOTS label), the dyes we use are guaranteed without any toxic substance, and it is woven in broken twill./p>
Its tied-on straps and belt, and its plain colourways make it an easy-to-use, uncluttered baby carrier.
Without any buckle or webbing, the new generation Maxi-Tai perfectly fits every babywearer's stature and morphology, and is quite adjustable: many different finishes are possible.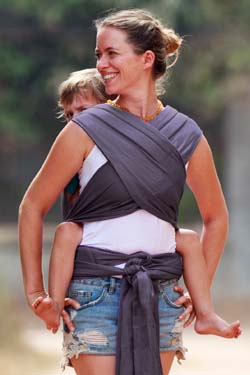 Le Maxi-Taï has been tested and certified CEN/TR16512.
It complies with all safety requirements.
Discreet and light (it weighs only 550g), it can easily be folded away and taken with you anywhere. This small size and reasonable price make it a good alternative to a soft-structured carrier.
Our instructional videos
(shot with the 1.0 version Maxi-Tai) ) Click here to view on Youtube
Collection

Daïcaling

From birth

No

Age ranges

2 years old (35.4 inch and more) - 5 years old

Max weight

27kg

Apron size at the largest

17.32 x 21.25 inch (headrest inluded)

Nursing in this baby carrier

Yes

Hood

No

Can be used to carry your baby

front and back carry

Material

fabric made in certified organic cotton (GOTS)

Weaving

Broken Twill Weave

Weight

210 g/m2

Dye

fabric dye

Country of manufacture

Vietnam

Type of baby carrier

meï-tai
Super!

Super comme le mid tai que j'ai déjà!
J'aime son côté enveloppant

Grâce au maxi-taï j'ai pu continuer de porter mon enfant devenu grand tout en gardant le côté enveloppant qu'on a pas avec les porte bambins. De plus on l'emmène partout car il ne prend pas de place une fois plié
Au top

Excellent rapport qualité prix. Nous portons notre 4 ans 1/2, 15kg et 102 cm avec pour les grandes rando et les journées visites touristiques qui ne s'éternisent. Au top pour la sieste ! Également monitrice d eportage, Je le recommande vivement aux parents qui viennent me voir.
Ravie

Agréable à porter, solide, adapté au poids et à la taille (15kg 98 cm). Et surtout facilité d'installation!
À recommander ++
Comfiest mei tai I've tried

We have been looking for a toddler sized mei tai after losing ours on vacation and finding out the company that made it went out of business. This mei tai is the only one I've found that comes close to the size of our old favorite carrier. My only complaint is that it could be a little longer through the body panel to support my toddler's head better if she's falls asleep (my child is 3ft 1inch ).
  My kid is 32 pounds and I have carried her for a few hikes in this carrier and found it to be the most comfortable mei tai I've ever used. The fabric is a bit more slippery than I'm used to so it took some playing around with my tying method to get it to stay put but it's worth it for the comfort (it's so soft for me and my child). I would recommend this to anyone carrying a kid bigger than what a stretchy wrap could accommodate. If you have a kid smaller than 2 1/2 you could always make the panel more narrow by tying a ribbon to fit (I can even carry my 5mo old in this if I roll it up and tie a string to make the seat more narrow).

Excellent carrier. Love the color. Thanks for making this!
Super

Confortable, pratique, peu encombrant, jolie couleur. Nous en sommes très content mon mari, ma fille et moi.
Très bon produit

Rapport qualité / prix au top, car c'est un bon produit à la portée de tous les budgets. C'est simple à installer et hyper confortable.
Très satisfaite

Achète à l'occasion d'un long voyage avec pas mal de temps de transit. (Changement de moyen de transport, transport de bagage ...) et aussi pour mini randonnée. Portage avant (voyage) et arrière (randonnée) confortable dans les deux sens. Et surtout bien pratique. Le noeud se fait assez facilement . Avec de l'aide pour l'installation dos. Plus facile qu'une écharpe. Utilisée pour un enfant de 2 ans, 14k500, 98 cm
Très satisfaite !

Je n'arrivais plus à porter ma grande de 3 ans et demi sans douleur avec mon précédent mei-tai, qui n'était plus adapté à sa taille. Je retrouve un portage confortable ! Il est très léger et compact, facile à emporter dans un sac pour les longues expéditions parisiennes en métro. J'avais l'habitude de porter sur le dos, mais avec le maxi-tai je suis repassée au portage ventral que je trouve super confortable : à son âge ma fille est assise sur mes crêtes iliaques, le soutien du tissu est parfait, les larges pans croisés dans mon dos répartissent très bien le poids. Aucune sensation d'épaule cisaillée.
Maxi tai

Juste parfait ???? mais un petit cordon de réglage en plus serait topissime
Au top

Je peux enfin reporter bébé avec un confort ! Louis a 20mois, l'écharpe classique que j'avais ne convenait plus . Mais là avec le maxi-taï je suis ravie . Facile à mettre . Je recommande +++
Parfait

Parfait et idéal pour les enfants de plus de 90cm
super

je ne regrette absolument pas mon achat et le recommande
Très bon produit mis à part la couleur

Le maxi Taï est parfait pour ma fille de 3 ans. Il est très confortable pour elle mais également pour moi. Je portais ma fille en écharpe auparavant et le maxi Taï est beaucoup plus simple à mettre. Cependant la couleur ne correspond pas du tout à mes attentes. Il n'y a aucune sorte de bleu. Il est gris clair!! J'ai contacté le service client qui m'indique que c'est bien la bonne couleur.. donc la photo ne correspond absolument pas à l'écharpe. Le stormy blue ressemble à l'écharpe grise présentée.
**

Idéal pour les grands !

Ma fille a 4 ans et je cherchais un porte bébé à glisser dans le sac de randonnée en cas de fatigue. Et bien ce portage est parfait. Il ne prend pas beaucoup de place, et très simple d'utilisation, et ma fille adore être porté comme le bébé. Utilisation en portage dos uniquement ici. Très bon alternative au portage enfant de rando non physiologique, ni pour l'enfant ni pour le porteur. A recommander !
Super

Notre fils est bien installé dedans et c'est agréable aussi pour le porteur. Il faut prendre le coup de main mais après plusieurs utilisations c'est un jeu d'enfant surtout pour ceux qui utilisaient l'écharpe de portage ????. Bref très satisfait.
Le plaisir d'une écharpe retrouvée

J'ai adoré porter mes enfants en écharpe. Puis, après 16 mois je suis passée au P4 que j'adore. Là j'ai acheté le P4 preschool et le maxi tai pour un voyage au Canada et aux USA pour mes 3 et 5 ans. Avec le Maxi tai je retrouve le plaisir d'une écharpe tout en ayant le confort de porté nécessaire avec des enfants plus grands. Le P4 preschool reste lui plis accessible à mon mari qui a toujours eu peur du nouage !
Notre nouveau must have

Depuis très longtemps je voulais pouvoir porter mon bébé au dos mais je n'y arrivais pas avec mon écharpe. N'étant pas une fan du portage en préformé je portais donc soit en écharpe soit en sling. Et puis j'ai découvert le Maxi-Taï... J'ai un peu hésité puisque mon fils ne fait pas encore tout à fait les 90cm recommandés mais je me suis dit zut c'est pas grave il y est presque. Comme j'ai bien fait!!! Hyper simple et confortable mon fils me réclame le portage dos à chaque siestes et le soir pour s'endormir. On est aux anges tout les deux. Petit bémol sur la couleur qui n'est pas du tout "sable" comme sur la photo.
très confortable !

J'ai acheté ce grand porte bébé pour mon fils de 18 mois qui pèse déjà plus de 12kg et est très grand pour son âge. Notre porte bébé "classique" pourtant recommandé jusqu'à 15kg ne lui convenait plus, il se sentait étouffé et essayait systématiquement de se dégager. Et que dire, passé la phase d'adaptation aux nœuds à faire (comparé à un porte bébé préformé, il demande un peu d'entrainement pour se mettre seul, mais rien d'insurmontable!), c'est le bonheur !! Très confortable (merci les bretelles rembourrées), le poids est bien réparti et l'enfant est bien à l'aise. Le "M" des jambes est super bien respecté, et il est facile pour mon fils de sortir les bras s'il désire avoir un peu plus d'air, ou au contraire les rentrer s'il a besoin d'un câlin/cocooning sur ses parents ... J'adore et je recommande ce produit à tous les adeptes du portage de grands bébés, même de façon occasionnelle.
Satisfaite

Bon produit qu'il faut tester plusieurs fois avant de prendre le coup. Le bébé s'y sent bien, le porteur est soulagé, je peux en attester puisqu'enceinte de 5 mois.<.p>
Bon produit

Ma fille a 3 ans et je la porte en echarpe depuis sa naissance (sling, préformé et "classique" extensible). J'ai connu LLA tardivement et j'ai acquis ce maxi taï il y a quelques jours. Je suis plutôt satisfaite de ce produit. La couleur est superbe, lumineuse. Le nouage et la mise en place sont faciles pour les adeptes des écharpes comme moi. Je regrette juste que le tissu ne soit pas un peu plus souple, ce qui permettrait de gagner en confort pour le porteur.
Parfait

J'adore mon nouveau porte bébé, il m'avait servi uniquement pour mon loulou de 1an et demi (81cm et 12kg) mais pendant nos vacances et suite à une mauvaise chute mon maxi de 4ans à pris place dedans pour arpenter la jolie ville d'Annecy. Je ne regrette pas mon choix
Maxi tai au top

J'ai acheté ce maxi tai car ma fille de 3 ans souhaite encore parfois être portée et je voulais quelque chose de compact et léger. J'ai redécouvert le portage, ma fille est tellement bien dans l'écharpe qu'elle s'y est endormie à deux reprises! Je recommande cet article les yeux fermés!
Parfait

Super produit J adore la couleur ( verte ) Ma fille aime aussi

Nous sommes contents tous les 3 de cette nouvelle écharpe. LE petit moins c'est qu'il n'y a pas la petite pochette de transport
Answer:
Bonjour, merci pour votre message. Nous sommes ravis de vous savoir satisfait par votre achat. L'offre sur le Doudou Pouch est en effet valable uniquement lors de l'achat d'un Mid-Tai. Bon portage en famille !
Toujours satisfaite chez Ling ling d'amour

Maxi taï reçu plus que rapidement, satisfaite de la couleur, bonne qualité de produit. Le plus dur est d'attendre le trempage/lavage/séchage, mais ça en vaut la peine. Merci Ling ling d'amour.
Extraordinaire

Je découvre le portage pour mon 14 mois!!! Un tissu de très bonne qualité , on se fait vite la main grâce à la notice visuelle , bébé pèse 13 kg et je me promène des heures sans avoir mal au dos , je le sens à peine , le poids est idéalement reparti et bébé est tellement à l'aise qu'il se laisse facilement aller à dormir contre maman. Et pour l'allaitement c'est impec' , discret , ni vu ni connu un bonheur ! Vive la vie en ling ling d'amour !!!
Parfait

Facile a mettre en place, ma puce de 2 ans adore.Les bretelles sont un peu courtes pour les mamans rondes.

Echarpe magnifique, solide et légère ! La couleur verte est superbe. Malgré la chaleur je supporte très bien l'echarpe et ma fille dedans. C'est vraiment un tres bon produit. Je trouve cependant la notice un peu simpliste, mais il y a des tuto sur internet.
Bon produit

Meitai facile et pratique à utiliser. L'assise est vraiment très large et l'enfant est bien soutenu. Les pans sont très longs et permettent de faire de finitions sympatiquues. Et pour finir super couleur (sunflower). Seuls petits bémol: pas convaincue par l'utilité du haut rembourré du tablier, tissu plutôt fin et pas très doux au toucher. Peut que que ça va changer avec le temps... en tout cas ravie du produit.
Au top

Couleurs

Nous avons été déçus par les coloris de la saison. Nous préférions les précédents, et malheureusement le noir n'existe plus non plus. Nous l'avions acheté pour le Mid Tai. La couleur est plus sympa qu'en photo, mais ça n'est pas le coup de coeur. Nous adorons le Mid Tai, c'est pour cela que nous l'avons quand même acheté en Maxi malgré la couleur. Envoi super rapide. Qualité du tissu et tu tissage toujours top. Merci.

Je suis pass
Customers who bought this product also bought: