copy of Mid-Tai
Out-of-Stock
Tax included
Mid-Tai is LLA's minimalist mei-tai baby carrier : a belt and spreadable straps to tie on.
The Mid-Tai, the comfort of a baby wrap combined with the ease of use of a baby carrier!
Mid-Tai baby carrier
minimalist, evolutive, light

The Mid-Tai is a mei-tai baby carrier made with 100% organic cotton fabric (GOTS label), designed for those who want to combine a feeling close to that of a baby wrap and a greater ease of use.
Uncluttered, the Mid-Tai features wide straps and a belt to tie on. Its back panel can be adjusted (both in width and height) to fit your child's growth from 4 months old (approx. 6 kg) to 3 years old (max 15 kg (Evergreen and Black Rainbow / max. 18kg for all others new colors 2019). The Mid-Tai lets you carry your baby on the front, on the side and on the back.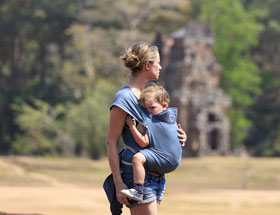 A minimalist carrier inspired by the baby wrap
The organic cotton (GOTS label) fabric and the minimalist design of the Mid-Tai allow for a very light and comfortable babywearing.
The Mid-Tai is one of the lightest and least bulky mei-tais on the market. It is therefore very convenient to fold away and store in a handbag or backpack when not in use.
The belt is tied on, so it adjusts easily to any morphology. It is lightly foam-padded for your comfort and support.
The wide, non-padded straps can be spread to distribute the weight evenly on your shoulders.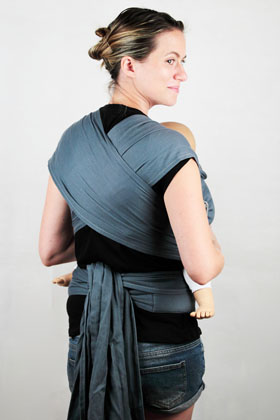 Lightly foam-padded belt
  Wide non-padded straps

The spreadable straps ensure your comfort while allowing to reinforce your baby's seat if need be, both on front and back carries. Seat strengthening is achieved by spreading the straps flat under your baby's bottom, knee to knee.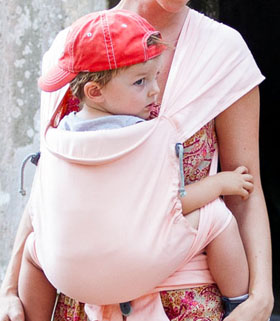 Mid-tai with no seat reinforcement
  Mid-Tai with reinforced seat
When back carrying, you can spread the long straps on your chest, and tie them in various ways.
Evolutive, ergonomic
The back panel of your Mid-Tai can be adjusted at the bottom and on the sides using cords.
With this adjustment system, the Mid-Tai follows the growth of your baby. The seat adjustment buckle is self-blocking for an easy installation.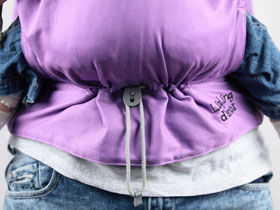 Adjustment buckle: reduces the width of the seat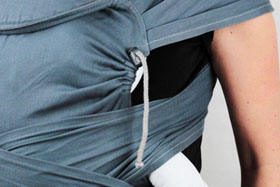 side cords : reduce the height of the back panel
Can be used from 4 months old:
For smaller babies, the back panel of the Mid-Tai can be reduced to 21 cm wide to avoid overspreading the hips in the first months. Heightwise, the panel can be adjusted down to 21 cm
A mei-tai suitable for toddlers up to 2 years old and more:
When the headrest is in upright position, the mid-tai is 45 cm high, perfect for carrying children up to 3 years old. The seat can be adjusted to a maximum of 42 cm wide, so as to fit toddlers.
When your baby can sit up by herself, she can let her arms out of the carrier. You can reduce the height of the panel to allow her to do so if you wish.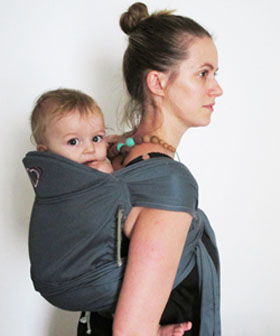 Arms inside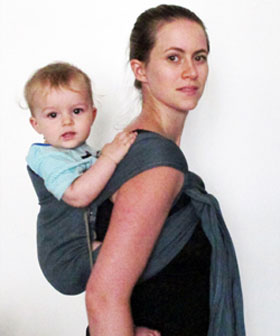 Arms outside
Your Mid-Tai's features
A flexible headrest:
The Mid-Tai's headrest can be set in an upright position to support your baby's head when napping.
For smaller babies, the downright position is more satisfying as it complements the adjustment of the panel and offers an optimal height for a better comfort.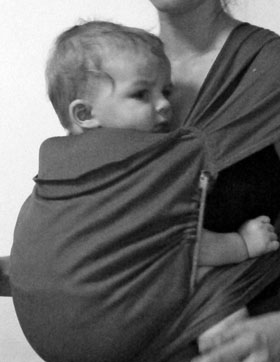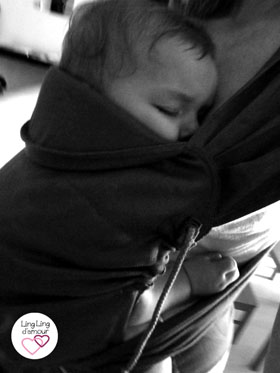 For older babies when they are not napping, the downright position of the headrest is recommended for a greater freedom of movements of their head. When they are napping, the upright position allows for head support.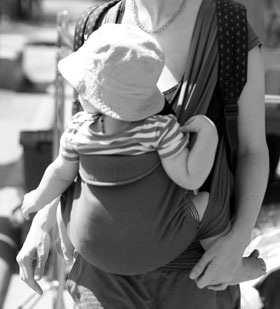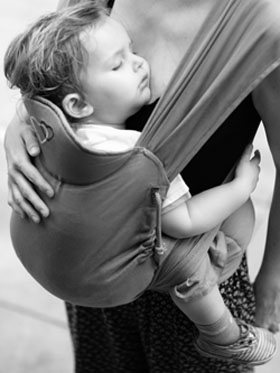 Of course, the upright headrest can also be used: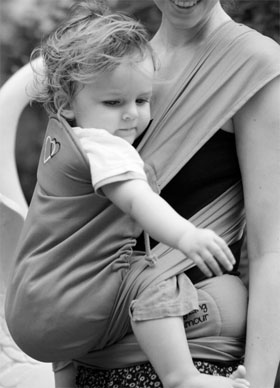 Breastfeeding: :
The Mid-Tai is your ally to breastfeed your baby both quickly and discreetly, in a vertical position. You just need to loosen the knot on the straps, then use the slack to bring your baby down to breast level. Once your baby is done, you can just tighten the carrier to bring your baby back up, close enough to kiss.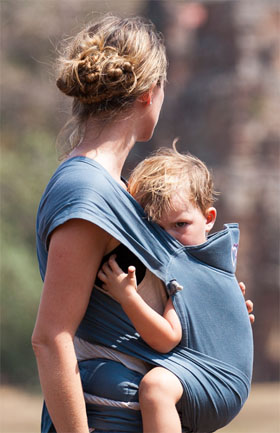 your ally to breastfeed your baby
Technical characteristics:
Hems are sewn in different colours so that you can differentiate them at a glance.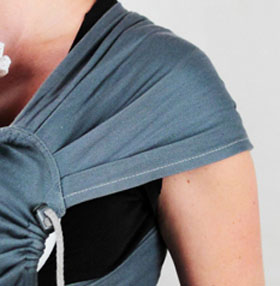 The 24 cm wide straps are tapered at the end.
The belt is 10 cm wide and 2.35 m long.
The fabric of the Mid-Tai is made with certified origin organic cotton (GOTS label), the dyes we use are guaranteed without any toxic substance, and it is woven in broken twill.
The accessories (cords, buckles…) used on the carrier have been chosen amongst the best on the market.
The Mid-Tai has been tested and approved in a certified testing laboratory, using a standard test procedure based on NF EN 13209.2. It complies with all safety requirements.
The MidTai has been tested and approved CEN/TR16512. It complies with all safety requirements.
The Mid-Tai comes with an instructional leaflet, and many videos are available on our YouTube channel.
Instructional videos
We propose various vieos tutos. Check our dedicated page.
Collection

Daïcaling

From birth

No

Age ranges

4 months old (13.2lbs) - 3 years old

Max weight

39,6 lbs

Apron size at the smallest

8.2 x 8.2 inch (headrest not included)

Apron size at the largest

16.53 x 17.32 inch (headrest inluded)

Nursing in this baby carrier

Yes

Hood

No

Can be used to carry your baby

front carry, hip carry, back carry

Material

fabric made in certified organic cotton (GOTS)

Weaving

Broken Twill Weave

Weight

210 g/m2

Dye

fabric dye

Country of manufacture

Vietnam

Type of baby carrier

meï-tai
Très bon produit

Super.
Selon les corpulences les bretelles sont presque un peu courte.
Customers who bought this product also bought: