Baby wrap
Out-of-Stock
Tax included
LLA's baby wrap
made in organic cotton (GOTS label) is the perfect babywearing tool from birth.
With a wrap, you can babywear and reassure your baby from the very first hours of her life.
Check our special offer on baby wrap
Ling Ling d'amour's baby wrap
Versatile, evolutive and light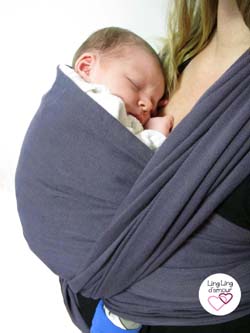 Your Ling Ling d'amour wrap lets you to carry your baby close to you and reassure her.
Babywearing with a wrap guarantees a physiological positioning for your baby. Her back is supported in its natural curve, with her knees high up. The broken twill weave offers a diagonal elasticity, ideal for adjusting from rail to rail and offering a comfortable cocoon to your baby.
Our Ling Ling d'amour baby wrap is comfortable for both your baby and you.
It can be used from birth (approx. 3,5kg) up to 3 years old (max. 15kg).
A versatile and evolutive baby carrier!
You can carry your newborn close to you, chest to chest.
After a few weeks, you can position your baby on your side; a few carries are possible, according to the length of the wrap.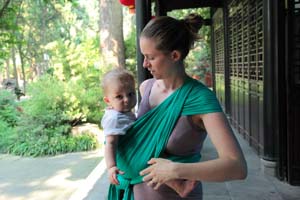 When you feel ready, you can carry your baby on your back. This way, you can fulfil her needs for closeness and reassurance so that she can discover the world at her own pace, all the while keeping your freedom of movement.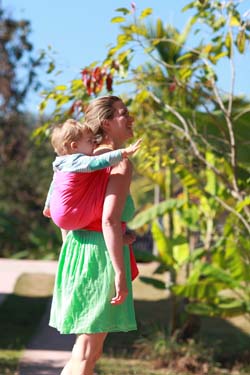 The wrap makes your life as a parent easier, by keeping both your hands free.
The baby wrap is your ally to nurse your baby both discreetly and quickly: below in the Cradle hold, from a Kangaroo Carry tied under baby's bum using a short wrap.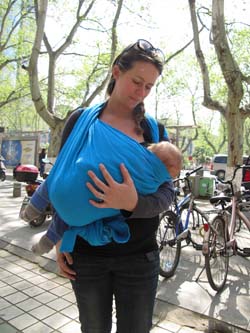 To achieve this, you just need to loosen the knot under your baby's bottom to get some slack and bring your baby down to breast level. Once your baby is done, you shall tighten the wrap again to bring baby back up, close enough to kiss.
You can also bottle-feed your baby in this way.
Ling Ling d'amour's know-how:
LLA's baby wrap is made in organic cotton (GOTS label) and woven in broken twill for the Daïcaling and SoL range. The Aïon range (Deep Ocean and Papaya colourways) is woven in dobby-weave (using a Jacquard loom).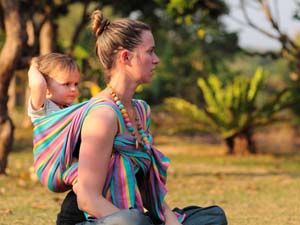 A label is sewn on the hem so that the middle of the wrap is easy to spot when tying.
The hems are sewn in a different colour, so you can notice at once if your wrap gets twisted.
Special reinforcement stitches are sewn on the hems for a greater strength.
The baby wrap is available in different lengths: 3.70m, 4.50m and 5.20m (in order to choose the correct length, please refer to the guidelines below!).

The tails are cut straight for Daïcaling; they are tapered for SoL and Aïon for a more elegant drape.
It is a light wrap: it weighs 210 gr/m² for the Daïcaling collection and 220 gr/m² for the Aïon et SoL collections.
Our dyes are guaranteed free of any toxic substance.
Our baby wrap has been tested and approved by a certified testing laboratory, using a standard test procedure based on NF EN 13209.2. It complies with all safety requirements.
The Ling Ling d'amour baby wrap comes with its instructional leaflet, which contains illustrated step-by-step instructions for various carries as well as safety guidelines. Many videos are also available on the Ling Ling d'amour YouTube Channel.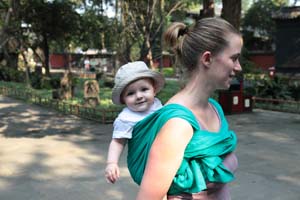 Which wrap size should you choose?
In order to choose your wrap size, you have to consider:
- the babywearer's shirt size,
- the baby's age,
- the mostly used type of carries.
Are you a babywearing beginner?
- up to size EU44/46, we recommend a 4m50 long wrap
- if you're a size EU46 or more, we recommend a 5m20 long wrap.
You will then be able to do most usual carries (FWCC, Kangaroo…) and carry your baby comfortably.
Are you already experienced with a wrap?
If you want to vary your techniques, you can choose a 3m70 wrap and give a try to carries that need less fabric (front and back kangaroo carries tied under baby's bum, robin's hip carry…)
Are your looking for an easier way to carry your baby  ?
Please check our special page where you will find our two others baby carriers suitable for newborn :
Instructional videos
How to front-carry? Hip-carry? back-carry? ...
Collection

Daïcaling, Aïon, SoL

From birth

Yes

Age ranges

birth (6,6lbs) - 3 years old

Max weight

33 lbs

Apron size at the smallest

/

Apron size at the largest

3.70 m ou 4.50m ou 5.20m pour 70 cm de large

Nursing in this baby carrier

Yes

Hood

Yes

Can be used to carry your baby

sur le devant, sur le côté, sur le dos

Material

fabric made in certified organic cotton (GOTS)

Weaving

sergé-croisé "anglais" / sergé-brisé (Daïcaling & SoL) ; dobby-wave (Aïon)

Weight

210 g/m2 (Daïcaling) ; 220 g/m2 (Aïon, SoL)

Dye

sur tissu (Daïcaling, Aïon) ; sur fil (SoL)

Country of manufacture

Vietnam (Daïcaling) ; Turquie (Aïon, SoL)

Type of baby carrier

babywrap
Ti boo balade

Bébé si s'en bien.
Priseen main facile. Tissu agréable et jolie couleur bleue. En raison de la longueur,  je nose pas la retirer a l'extérieur et n'est pas encore essayée d'allaiter avec et apres pouvoir remettre bebe en toute sécurité sans être obligée de le poser.
Top

Conforme à la description sur le site.
Livraison sans problème.
Agréable à porter
Écharpe de portage

Je suis très contente de mon article que j'ai acheter. Une super qualité.
au top!

j ai recu l echarpe taille 4m50 couleur chocolat, facile d installation et très pratique. dodo en 5min et plus d excuse pour maman pour les taches ménagères :/
Très bon produit

Ravie

Echarpe de belle qualité, la couleur fushia est tout simplement magnifique, pas trop flashy mais lumineuse et franche à la fois. Elle est en cours de rodage pour être pleinement appréciée
Très bon produit

Excellent achat facile d'utilisation l'écharpe se donne rapidement à recommander
Très bien

Très heureuse de ma commande je vais enfin pouvoir porter avec amour ma boule d'amour ❤️
Très bien

Fait très bien son job soutenante pratique.

Produit de qualité et livraison rapide. Top !

Très belle écharpe ! Le tissus est doux et résistant.
echarpe

couleur conforme a la photo
Superbe

Taille idéale et couleur parfaite !
Jolie

Belle couleur pêche un peu fluo
cadeau

echarpe offerte en cadeau
Super écharpe

C'est ma première écharpe de portage, je l'apprécie pour sa légèreté, contrairement à des écharpes avec élastane, elle ne tient pas chaud.
Elle est abordable et le tissage semble de qualité. Le tissus est bien souple, mais pas spécialement doux.
Elle permet de porter un enfant jusqu'à 3 ans et sa couleur est superbe, un jolie prune.
Seul remarque : une poignée serait bienvenue sur la pochette qui permet de ranger l'écharpe. Ce qui permettrait de facilement emporter cette dernière à la façon d'un parapluie compact.
Écharpe au top

Une écharpe de bonne qualité, qui n'attends plus que l'arrivée de bébé pour être utilisée.
Écharpe

Digne d'une écharpe. Le noir n'est pas une bonne idée pour l'été par contre. ..
Écharpe de portage

L'écharpe est de très bonne qualité et la couleur est très jolie. Néanmoins j'aurais dû prendre la taille en dessous.
Très pratique

Utilisation tous les jours
Super

Écharpe très facile à utiliser. Les explications sont fournies avec et simple à comprendre.
Très bon produit

Produit conforme à la description, la longueur permet différents types de portage, la couleur est sympa. Bon rapport qualité prix. J'aime bcp la petite pochette qui permet de ranger l'écharpe et la notice pour réaliser les nouages est très pratique.
J'adore

Je recommande cette écharpe. Tissus très beau et confortable. Grâce aux vidéos j ai réussi très vite à mettre mon bébé dedans. Il y ait très bien et sendort souvent dedans. Tres pratique pour me libérer les mains et gardé mon bébé de 3 mois contre moi
Customers who bought this product also bought: