M-Tai on special offer
Out-of-Stock
Tax included
M-TAI ON SPECIAL OFFER
Ling Ling d'amour's « hybrid » carrier: its mixed shoulder straps (both padded and spreadable) are tied on while its belt is fastened using a buckle.
A clever mix between a soft-structured carrier and a mei-tai
YOUR M-TAI ON SPECIAL OFFER
Quick, convenient and evolutive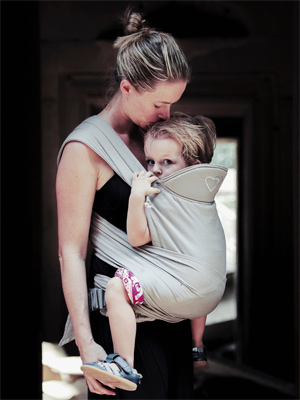 Discover our hybrid baby carrier: a clever mix between a soft-structured carrier and a mei-tai. With its mixed shoulder straps (both padded and spreadable) and its buckle belt, the M-Tai lets you carry your child from 4 months old (approx. 6kg) up to 3 years old (max. 15kg), on the front or on the back.
Faster than a standard mei-tai
No need to tie the belt, you just need to fasten the buckle like a soft-structured carrier. The 3-points buckle offers a quick and secure installation.
The mixed straps allow for an almost instant fit on your shoulders.
The M-Tai is a hybrid baby carrier: the buckle belt and mixed shoulder straps bring comfort and great ease of use.
Very comfortable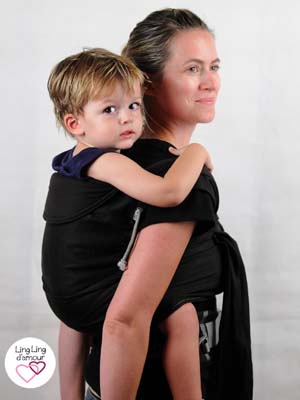 The shoulder straps of your M-Tai have a 7cm wide, 41cm long padding, featuring an overstitching in the middle for a good hold of the foam. The foamed straps allow for a superior babywearing comfort, and a great freedom of movement for the wearer's arms.
They are also spreadable (24cm wide) so you can spread them on your chest for a good weight distribution and an optimal support.
You can also spread the wide tails flat under your baby's bottom to reinforce the seat if necessary.
The belt is wide (13 cm) and densely padded below the seat. This gives you a great comfort and a good support over time.
Adjustable
The M-Tai back panel can be adjusted in various ways: :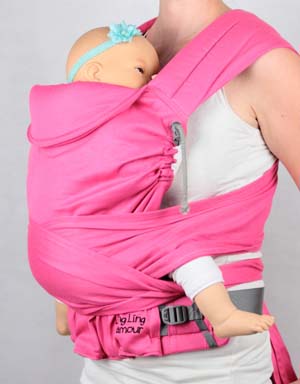 A strap sets the seat width from 15.5 to 42 cm. Very convenient: the adjustment of this strap is independent from that of the belt on the wearer. Small or big baby, small or tall wearer, all combinations are possible (waist max. 135cm).
Side cords and cord locks set the height from 21 to 34 cm for a perfect fit.
The foam headrest can be lowered (babies, awake periods, toddlers) for an optimal back panel height and freedom of movement of the head. It can also be raised during naps for head support, and brings the total height of the panel to 45 cm.
When your baby can sit up by herself, her arms can be let out of the panel.
The fabric of the M-Tai is made with certified origin organic cotton (GOTS label), the dyes we use are guaranteed without any toxic substance, and it is woven in broken twill.
The accessories (cords, buckles…) used on the carrier have been chosen amongst the best on the market.
The M-Tai comes with an instructions leaflet, containing safety guidelines and illustrated step-by-step instructions to carry your child on the front or the back. Many videos are also available on our YouTube channel.
The M-Tai has been tested and approved by a certified testing laboratory, using a standard test procedure based on NF EN 13209.2. It complies with all safety requirements.
DIMENSIONS
(+ / - 5 % )
Back panel set to the minimum::
Minimum seat width: 15,5 cm
Minimum panel height (at the middle, not including headrest): 21,5 cm
Back panel set to the maximum:
Maximum seat width: 42 cm
Maximum panel height (at the middle, not including headrest) : 34 cm
Maximum panel height (at the middle, not including headrest) : 45 cm
Headrest height: 11cm
Shoulder strap length (total): 187 cm / 197cm on Eucalyptus / Dried Herb / Chocolate / Evergeen / Bleu Klein / Orchidée / Sunflower colourways
(Length of the padded part of the strap: 41 cm)
(Length of the non-padded part of the strap: 146 cm / 156 cm on Eucalyptus / Dried Herb / Chocolate / Evergeen / Bleu Klein / Orchidée / Sunflower colourways)
Shoulder strap width: 24 cm
(Width of the padding: 7 cm)
Belt width: 10,5 cm
Total length of the belt (set to the max): 136 cm
Instructional videos (shot with the first generation M-Tai, previously called mei-tai)
Collection

Daïcaling

From birth

No

Age ranges

4 months old (13.2lbs) - 3 years old

Max weight

39,6 lbs

Apron size at the smallest

5.9 x 8.2 inch (headrest not included)

Apron size at the largest

16.53 x 17.32 inch (headrest inluded)

Nursing in this baby carrier

Yes

Hood

No

Can be used to carry your baby

front and back carry

Material

fabric made in certified organic cotton (GOTS)

Weaving

Broken Twill Weave

Weight

210 g/m2

Dye

fabric dye

Country of manufacture

Vietnam

Type of baby carrier

half-buckle
Je revis.

C\'est d\'un pratique cet hybride ! À la fois physiologique en respectant la position de l enfant sous tout point au niveau du serrage et de l écharpe ! Et en meme temps le côté porte bebe qui fait du bien au dos et aux hanches !
Super

Super produit j'avais un ancien babybjorn avant et là j'ai changé avec le M tai Et je trouve que le le poid  est mieux reparti de pouvoir régler les sangle juste en tirant dessus c'est très simple ma fille c'est endormi plusieurs fois dedans la couleur top passe partout et bébé peut regarder le monde comme il peut aussi se cacher je recommande
confort

tout moelleux pour les siestes
Très bon porte-bébé

Super contente de mon choix! Facile et rapide d'instalayions, très confortable pour le porteur et pour bébé (20 mois 10kg). Seule petit bémol, les pans qui traînent par terre pendant l'installation.
j adore

simple confortable je la préfère au portage sur le dos.
Conforme à sa réputation

Très satisfaite de mon achat
Top

Confortable pour le porteur et pour le porté. Je recommande. D'autant que la livraison a été rapide
Quel dommage

Le porte bébé a l'air d'être de bonne qualité mais je ne peux pas y mettre ma puce dedans. Effectivement quand on arrive pas avec le tissus à faire plusieurs tours pour attacher bébés bah on fait sans écharpes. Vous devriez proposer plusieurs tailles pour les parents. On ne fait pas de tous du 36 surtout en sortant d'une grossesse... et je suis une femme j'ose même pas imaginer pour les papas un peu musclés. Tant pis pour moi et ma fille je vais le revendre...
Answer:
Bonjour, nous vous remercions pour votre message. Nous avons créé nos porte-bébés de manière à ce qu'ils puissent être utilisés par tous les parents. La ceinture du M-Taï au plus large mesure 136cm et la longueur totale des bretelles fait environ 200cm. Il est tout à fait possible de réaliser le double nœud sous les fesses de bébé, comme nous le montrons dans nos vidéos tutos.  Si vous souhaitez être conseillée sur l'installation de bébé dans le porte-bébé, n'hésitez pas à nous envoyer une photo par email au : service-client@linglingsling.co m  Merci et bon portage. 
Ravie

Facile à installer, bébé se sent très à l'aise dedans et maman aussi
Ceinture peu confortable

J'avais en premier lieu acheté un p4 mais ce type de portage ne me convenait pas du tout. Jai alors racheté un mtaï. Portage beaucoup plus confortable, en revanche la ceinture ne me convient toujours pas. Jai pourtant essayé tous les nouages et hauteurs possibles mais rien à faire la ceinture se courbe vers l'avant malgré que bébé soit bien au fond du tablier et la ceinture bien plaquée contre moi avant installation. Du coup je regrette encore une fois mon achat et aurait dû prendre un mid tei avec nouage ventral et dorsal. Parfois les choses les plus simples sont les meilleurs. Hormis cela très bonne qualité de tissu, de finition, de matière. Sur ce point rien à dire.
Daicaling

Super moyen de portage une fois apprivois

Très contente de mon achat. Il m'a fallu un peu de temps pour apprivoiser le M-taï et placer bébé au mieux, et maintenant c'est fait en 2 secondes, et bébé s'endort instantanément dedans!
Très confortable

Très bon produit. J'installe ma fille dans le dos et elle ne bronche pas. La couleur est très belle. Attention cependant à bien le faire tremper avant de l'utiliser. (Après une nuit l'eau ressort bleu)
Les pans sont rembourrés ce qui rend ce porte bébé vraiment confortable.
M-Taï le top

Produit acheté pour ma fille de 8mois. Très satisfaite de ce produit conforme à la photo. Couleur magnifique,  très facile d'utilisation. Ma fille adore! ???? il me reste à me lancer avc pour portage dans le dos! Merci ling ling d'amour!
Parfait

Parfait

Je suis complètement conquise par ce moyen de portage!!! Ma fille devient dingue quand je le sors!!! Merci pour cette merveille!! Ce n'est que le début d'une nouvelle aventure!!
Parfait

La livraison a été très rapide (environ 2 jours ouvrés). Le porte-bébé reçu est bien celui que j'avais commandé, la prise en main à l'air facile, il me reste plus qu'à l'essayer en conditions réelles (bébé étant encore au chaud) pour être tout à fait ravie.
Je peux peut-être juste suggérer une petite housse pour ranger et protéger ce porte-bébé.
Bonne continuation au site et bon portage à tous.
Pas encore essayé,

Bébé étant trop petit encore, je ne l'ai pas encore essayé, mais je le trouve magnifique, il a l'air solide et bien fini, j'ai hâte de le tester!
M-tai rose

Ma fille est encore trop jeune pour l'utiliser mais le tissu est top et je l´enfui de pouvoir l'utiluser. Plus simple qu'une écharpe mais tout aussi physiologique
Parfait

Hyper confortable, bien adapté à bébé, et très joli.
Bien mais pas utiliser

Mon fils n'aime pas du coup je ne l'utilise pas :( je trouve sa quand mm assez long à installer ... et pas assez de choix de couleur


Top

Pas encore douée pour le portage mais très satisfaite ! Livraison rapide, tissu top couleur top ! Tout est top, un petit bémol pour moi le mode d'emploi n'est pas assez explicite mais on peut trouver des vidéos donc ça va ! Five stars !!!
Très confortable

Très confortable et pratique. L'attache au niveau du ventre est sécurisée mais peut être parfois diffile a enlever car il faut appuyer sur 3 points.
Le rembourrage au niveau Des épaule rend ce porte bébé très confortable.
M-taï

Je suis très contente de mon LLA, le confort est top, la qualité également
Il est magnifique et la couleur est dingue !
Surtout ne pas hésiter
Au départ on a bien besoin d'être deux pour l'installer et chopper le truc. Puis c'est de plus en plus simple même pour bien déroulée les pans.
En petit bémol j'aurais peut être juste aimé plus d'info quant au premier lavage...
Puis je n'arrive pas encore à l'utiliser pour allaiter... À suivre
Merci en tout cas pour ce super boulot LLA !
Magnifique produits !

Encore mieux qu'en photo !
Très bon tissu , couleur magnifique. Les bretelles sont bien renforcées. Très pratique et super confortable même avec mon fils de 20mois.
Bon rapport qualité prix

Très satisfaite du produit . Couleur pleine de pep's , ceinture à clip très pratique et néanmoins confortable . Tissus respirant , toucher agréable .
Un petit bémol , une mauvaise odeur à la réception mais qui est parti après lavage .
Très bien

Très bon produit, hyper pratique pour aller à la montagne.
Topissime

Super contente de mon M Taï, reçu rapidement et conforme.
Hyper simple d'utilisation et pratique.
Bébé s'y endort à chaque fois ????

Bien faire tremper avant le lavage, le fuchsia degorge un peu.
Adopté par maman, bébé va apprendre à aimer

Les bretelles déployables sont vraiment très confortable. Le nouage est facile. La ceinture quand à elle est beaucoup moins agréable pour moi à partir de 30 minutes de portage. Sinon je confirme que bébé doit avoir +de 4mois et +de 6kg car ma fille vient d'avoir 4 mois et pèse 6kg et elle  "nage" dans le m-taï. Du coup elle ne se sent  pas du tout sécurisée comme dans l'écharpe (effet cocon) et n'apprécie pas ce mode de portage pour l'instant.
parfait

le m tai est top entre l echarpe et le preforme. facile a mettre et rapide. livraison rapide et soignée. ravie d emon achat et de belles ballades en perspective.
Ravie

Je suis ravie de ce M Tai. Facile a installer, tissus assez agreable,  bebe s y sent bien.
A recommander
Mtai

Je l'ai commandé en prévision des 4 mois de ma petite... Je l'ai essayé malgré tout (trop impatiente) il ne manquais pas grand chose j'ai eu un peu de mal avec les pans larges mais je pense que ce n'est qu'un coup de main à prendre. Il est très confortable pour le porteur et ma princesse si est plu (une fois tout installé) vivement qu'elle y soit plus à l'aise même si ça n'avait pas l'air de la déranger.
Je ne regrette pas cet achat qui m'a été livré rapidement.
heureuse

satisfaite ainsi que bébé :) des quil est dedans il sendort :)
M Taï Daïcaling Orchidée

Produit conforme à la description. Peu utilisé pour le moment car ma fille n'a que 3 mois. Mais le produit est de bonne qualité, facile d'utilisation.

Assez facile a mettre apres un peu de pratique. Et je revis car le sling et bien mais juste pour descendre de l'immeuble car apr
Ultra pratique

J'utilisais déjà un mei tei, mais avoir une ceinture à clips en bas est tellement plus pratique. Le rembourrage des épaules est très confortable. Je porte en ventral, et j'adore.
Pratique

La ceinture s'adapte très facilement sans dérégler  l'assise de bébé,  les bretelles sont très grandes et permettent un bon confort pour le porteur. Elles s'adaptent bien tant à papa et son bon 1,83m qu'à maman et son 1,53m même si maman les trouve un peu longues.
Le maintien est bon et la couleur orchidée conforme à la photo.
Livraison rapide et sav au top ( problème de couture, renvoi d'un autre dans les 3 jours avec livraison à domicile)
Totalement conquise !

N étant pas douée pour les noeuds d écharpe mais aimant le portage , j ai opté pour l hybride ! C est top , très pratique et confortable , ma fille de 20'mois adore etre portée dans le dos ! Livraison hyper rapide et soignée , notice super claire ! Je recommande chaudement! Je pense acquérir le preschool pour ma grande qui est jalouse du coup ...!
Confortable

Acheté initialement pour mon bébé (pour plus tard), testé sur ma presque 3 ans, elle adore ! Couleur pleine de peps
Customers who bought this product also bought: